Today Electronic Arts, Ltd. ($EA) announced the financial results of the Fourth Quarter and the full fiscal year 2021 ending March 31, 2021.
The Company is pleased to have released 13 new games in the fiscal year, including two in the fourth quarter, and to have concluded the acquisition of Codemasters, Glu Mobile and Metalhead Software, increasing its reach in sports and on mobile.
There was an impressive 42 million new players in the EA network during the fiscal year.
About the franchise FIFA, average daily active FIFA players +10% YoY.
The Sims 4 has reached almost 36 mln players and delivered its sixth consecutive year of franchise growth.
FY 2021 Financial Highlights
Record net revenue
Record net bookings
Record operating cash flow
Returned over $800 million to shareholders
Net cash $371 mln for Q4, $1.934 bln for the FY
The acquisition of GNU Mobile will be integrated in Q1 FY22
The acquisition of Codemasters is in Q4 FY21 and includes its financial results from and after Feb. 18, 2021
"Looking forward, the momentum in our existing live services provides a solid foundation for FY22. Combined with a new Battlefield and our recent acquisitions, we expect net bookings growth in the high teens"– COO and CFO Blake Jorgensen
The release of Battlefield is set for Q3 FY22 (October 1, 2021 - December 31, 2021).
Net bookings of $7.3 bln is ~18% YoY growth, which includes the impact of Glu Mobile, Codemasters and Metalhead Software.
"In sports, we expect Ultimate Team to be strong, we're launching a new golf game, and F1. And then of course we'll add Battlefield in the holiday season.".
Apex Legends has more than 100 mln players on console/PC, and Season 8 had more than 12 mln weekly average players
FIFA 21 has more than 25 mln console/PC players
FIFA Ultimate Team players +16% YoY, matches +180%
More info on Battlefield
During the Conference Call with the investors, Andrew Wilson, CEO of Electronic Arts, announced that Battlefield will be revealed this June, with epic scale, all-out warfare, game changing destruction taken to next level by next-gen consoles and PCs to reach more players in the world, will be exciting also on last-gen platforms (PS4, Xbox One) with down scaled effects and resources.
The board of Electronic Arts didn't comment at the moment regarding a potential plans to annualize the franchise or a Battle Royale in BATTLEFIELD.
The title is a relaunch of the franchise and will have a new game mode to reach more players around the world.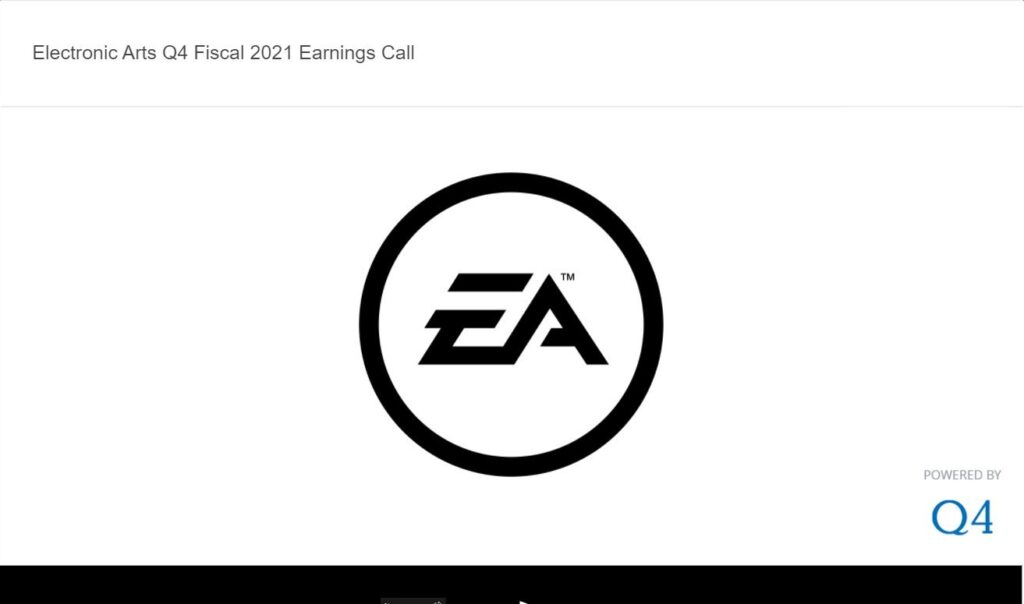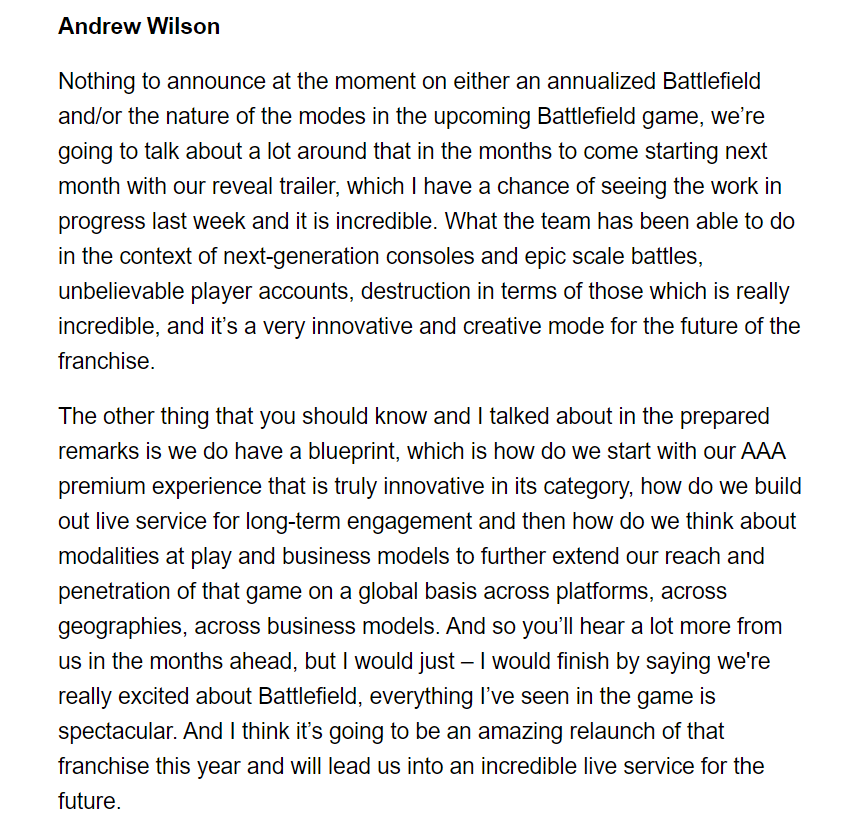 "We are positioned for continued growth in FY2022 through new launches, expansion to mobile, and preparing for the addition of new business models that will expand our total addressable audience", said Andrew Wilson. "Our strategy is to grow Battlefield as we have with our other blockbuster franchises like FIFA and Apex, best-in-class gameplay, deeply-engaging live service, a new mobile experience, and more ways to play that we will introduce to reach more players all over the world."
"we're really excited about Battlefield, everything I've seen in the game is spectacular. And I think it's going to be an amazing relaunch of that franchise this year and will lead us into an incredible live service for the future", concluded Andrew Wilson.
Life is all enclosed in emotions. One of these is certainly the satisfaction of making something that other people like: this is my pleasantness. My main professional attitude is to optimize, improve management and business processes, applications, services. In short words, Web | Tech | Projects Specialist Consultant.
I have been present on social networks since they began to be a tool of common interest: Facebook, Twitter, Instagram (I love to publish and browse amateur photos that contain fragments of life). I believe in hashtags as much as I believe in aphorisms.