Today Activision Blizzard ($ATVI) announced the financial results of First Quarter for fiscal year 2021 ending March 31, 2021.
The company highlighted the excellent results obtained above expectations: Record Q1 results, fantastic results by Call of Duty, World of Warcraft and Candy Crush, and the COD in-game net booking (+60% YoY).
In particular, the company recorded revenues of $2.28 billion, +27% than expectation, and has informed that it intends to hire +2000 developers over next two years, triple of certain franchise teams in order to create new exciting experiences for players.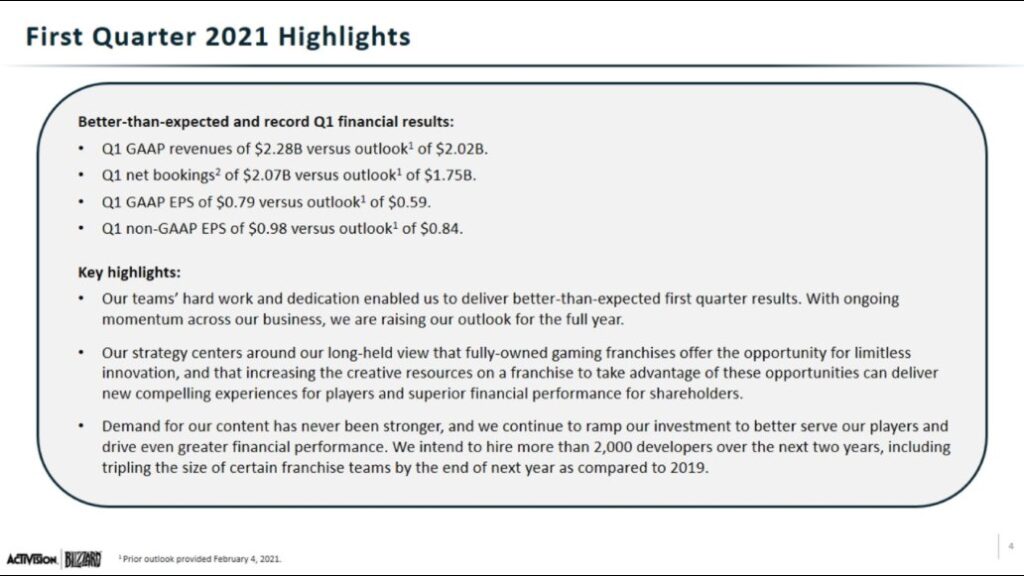 Activision announced that the next Call of Duty is in development by Sledgehammer Games, "being built" for next-generation consoles and PC, will feature "campaign, multiplayer, and co-op modes" and coming this Fall.
Shares of Activision Blizzard Inc. gained Tuesday evening after the video game developer reported higher first-quarter revenues and earnings that topped expectations.
The company also provided guidance for the second quarter and fiscal 2021.
Sledgehammer Games is opening a new studio location in Toronto as result of the talented team's expansion and to be "stronger than ever", said Rob Kostich, President of Activision.
Here the official statement by Daniel Alegre, Chief Operating Officer at Activision Blizzard, about next Call of Duty in development by Sledgehammer Games studio with the support of other COD teams and adding hundreds of developers to the franchise.

"We're so excited to be leading the charge on Call of Duty this year and can't wait to share more. We're also thrilled to announce that we're expanding with a new team in Toronto, CA to partner with our teams in Foster City, CA and Melbourne, VIC!" – Sledgehammer Games
Life is all enclosed in emotions. One of these is certainly the satisfaction of making something that other people like: this is my pleasantness. My main professional attitude is to optimize, improve management and business processes, applications, services. In short words, Web | Tech | Projects Specialist Consultant.
I have been present on social networks since they began to be a tool of common interest: Facebook, Twitter, Instagram (I love to publish and browse amateur photos that contain fragments of life). I believe in hashtags as much as I believe in aphorisms.