In times of pandemic, the gaming entertainment sector exceeds 2 billion euros
The annual report made by the national trade association, Iidea, built on the basis of different research sources such as Game Sales Data (GSD), GameTrack and AppAnnie, marks a sales record of around 2.179 billion euros in Italy with a growth of 21.9% compared to the previous year and among the highest in Europe, thanks to the approximately 17 million Italians who have spent their time enjoying video games.
The interest in this sector, for years associated to the exclusive use of children, has been growing sharply for several years and in 2020 it marked an impact in social life such as to turn the spotlight on the media and become a topic of discussion as well as entertainment.
The prolonged stay at home due to the pandemic has forced everyone to review their habits and to discover how video games can not only entertain but reduce distances and maintain relationships with friends and acquaintances, sharing moments of mutual interest.
Merit of the sales record is especially the software with € 1.784 billion, +24.8% compared to the previous year, with a digital incidence that confirms the tendency to use the contents in online format instead of purchasing the product on physical media.
Emblematic is the distribution between software and hardware, with a 82% of contents compared to 18% of platforms, marking a historic moment for the gaming entertainment industry in Italy.
Hardware
€ 395 mln, +10,3% vs 2019
Software
€ 1,784 mln, +24,8% vs 2019
Data from GSD (Games Sales Data) for the physical market, GSD (Games Sales Data) and GameTrack for digital products, App Annie and Game Track for the mobile market, have been processed on the basis of a research methodology curated and promoted. internationally by the European federation of the video game industry (Interactive Software Federation of Europe, ISFE).
In detail the hardware segment is increased by 10,3% compared to the previous year (+6.9 consoles, + 8.9% accessories), performed by the introduction of the next-generation console like Microsoft Xbox Series X|S and Sony PlayStation 5, and a greater interest in portable console including Nintendo Switch.
In fact, during the year 2020 518.856 units of PS5 and Xbox Series X|S, 300.592 units of PS4, Xbox One, Wii U, 64.645 units of other legacy console (PS3, Xbox 360, PS2, ecc.) with a total of 722.321 units of home console, and 161.772 units of portable console (Switch, 3DS, ecc.) were sold.
In the accessories market, the 1.199.295 units of GamePad excel with a revenue of over € 63k, compared to the total of 2.531.100 units sold in 2020, with a revenue of € 120.197.535.
The ranking of the 20 best-selling titles during the 2020 year for all the cumulative platforms of both physical and digital versions shows in the first and third place the football game made by Electronic Arts with FIFA 21 and FIFA 20, in second place Grand Theft Auto V of Rockstar Games, a rock-solid blockbuster that debuted about 8 years ago on PS3 and Xbox 360. Sony Interactive Entertainment is the most present Company with well six PlayStation exclusives.
1. FIFA 21, Electronic Arts
2. Grand Theft Auto V, Rockstar Games
3. FIFA 20, Electronic Arts
4. Animal Crossing: New Horizons, Nintendo
5. The Last of Us Part II, Sony Interactive Entertainment
6. Call of Duty: Black Ops Cold War, Activision Blizzard
7. Call of Duty: Modern Warfare, Activision Blizzard
8. Tom Clancy's Rainbow Six Siege, Ubisoft
9. NBA 2K20, 2K Sports
10. Assassin's Creed Valhalla, Ubisoft
11. Red Dead Redemption 2, Rockstar Games
12. Minecraft: Nintendo Switch Edition, Mojang
13. Spider-Man, Sony Interactive Entertainment
14. Dragon Ball Z: Kakarot, Bandai Namco Entertainment
15. God of War, Sony Interactive Entertainment
16. Assassin's Creed Odyssey, Ubisoft
17. Spider-Man Miles Morales, Sony Interactive Entertainment
18. Ghost of Tsushima, Sony Interactive Entertainment
19. Gran Turismo Sport, Sony Interactive Entertainment
20. Mario Kart 8 Deluxe, Nintendo
"2020 was an extremely positive year for the video game sector, with a market that in Italy continues to grow year after year and that in the last twelve months has registered record numbers. This significant growth is not only the result of the pandemic that has made us spend more time at home but is a testament to the growing interest in video games as a form of entertainment and communication ", said Marco Saletta, President of IIDEA. "In fact, 2020 marked a turning point also in the social and cultural perception of the medium and brought with it a broader understanding by public opinion of the potential of the video game as a tool for socializing and learning".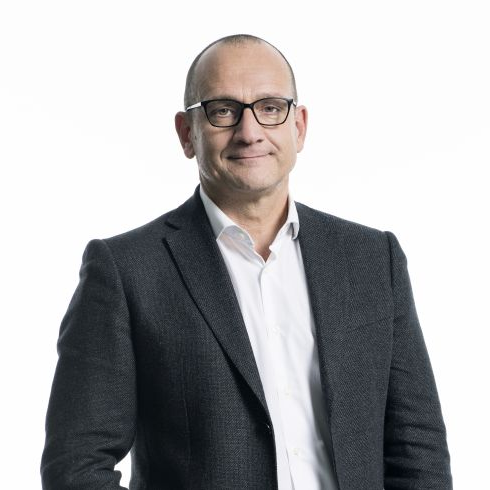 Marco Saletta
President of IIDEA and General Manager of Sony Interactive Entertainment Italia (photo: IIDEA)
Life is all enclosed in emotions. One of these is certainly the satisfaction of making something that other people like: this is my pleasantness. My main professional attitude is to optimize, improve management and business processes, applications, services. In short words, Web | Tech | Projects Specialist Consultant.
I have been present on social networks since they began to be a tool of common interest: Facebook, Twitter, Instagram (I love to publish and browse amateur photos that contain fragments of life). I believe in hashtags as much as I believe in aphorisms.